Part of the fun of being somewhere that's not home is discovering all the little differences. People in
Reunion Island
are generally fairly easy-going and tolerant, but here are a few tips to help you avoid some
faux pas
. Overall just use some common sense and observe what others are doing. And remember - it's OK to make mistakes, and a smile always goes a long way.
What not to do in Reunion:
Refer to mainland France as 'France'. Reunion IS (part of) France.
Refer to Creole as 'broken French', a 'patois' or a 'dialect'. Reunion Creole, like all Creoles, is a fully-fledged language, albeit with no single consensual spelling system.
Try and stereotype people into racial/ethnic/religious categories. That doesn't work in Reunion.
Talk about an 'indigenous' population. There was no indigenous human population before French and Malagasy arrived in the 17th century.
Refer to Reunion as 'tiny'. The island has a surface area of 2500m2, similar to Luxembourg. If Reunion was a country it would be the world's 180th (out of 249 countries and dependencies) in terms of surface area - it's bigger than Mauritius (yes), Hong Kong, Singapore, Bahrain etc. 'Tiny' is Monaco, the Vatican, Liechtenstein, Bermuda to name but a few.
Swim in the sea (outside the lagoon) if there's no lifeguard. Shark problem aside, there are several beaches with deadly strong currents.
Swim in the sea after a cyclone or very heavy rainfall. Soil and various organic matter can get washed into the ocean with the result that there can be a health risk and a higher likelihood of sharks (thanks to Jean-Marie Salmacis for suggesting this).
Sign at Etang Salé Beach (source)
Assume the person you're speaking to will always understand English. If they do, so much the better, if not - you have been warned.
Forget to be polite. Even if you don't speak French 'Bonjour', 'Merci' et 'Au Revoir' will always be appreciated.
Assume you'll be able to get vegetarian (let alone vegan) food everywhere you go.
Assume you'll be able to find a taxi quickly and cheaply.
Make comparisons out loud with your home country if they're unfavourable to Reunion (of course this applies when you're visiting any country).
Leave sun protection behind if it's cloudy when you start a hike. (I got a second degree burn at the volcano from doing this).
Go hiking for several days during cyclone season without some means of checking upcoming weather.
photo taken during Cyclone Bejisa, Jan 2014
Drink tap water after a cyclone/heavy rainfall.
Expect to find a Starbucks. Or a decent cup of tea anywhere in public.
Litter.
Expect red meat to be well-cooked in a restaurant.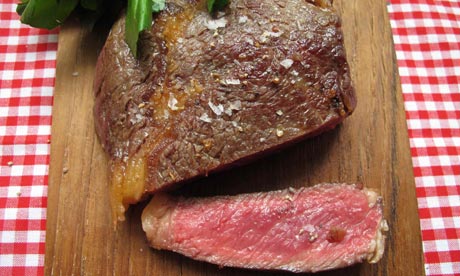 Meat cooked how you like it? (source)
Anything to add? Let me know in the comments below.


You might also like: