Here's a (non-exhaustive) round-up of some general travel articles about
Reunion
that have been published in the written press over the past dozen or so years.
Hiking the caldera in La Réunion (© Mike Unwin)
in the cirque of Cilaos (photo © Daniel Born)
Vanilla, coffee and spices are the prized products on
Reunion Island. (Picture: © Jo Kerozen / Wikipedia)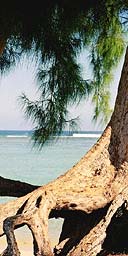 "A million miles from Paris ...
it's easy to while away the
afternoon lounging under a tree".
See also:
Do you know of any other articles you'd like to see added to this list?