Here's a (non-exhaustive) round-up of some general travel articles about
Reunion
that have been published in some of the English written and online press over the past dozen or so years.
The village of Hellbourg (source: Alamy via The Times)
The waterfalls at Grand Galet (CREDIT: GETTY)
Reunion Island: A record-breaking speck in the Indian Ocean.
Photo: Adobe Stock

Hiking the caldera in La Réunion (© Mike Unwin)
(Chris Hellier/CORBIS)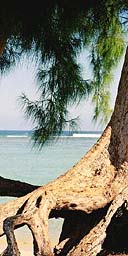 "A million miles from Paris ...
it's easy to while away the
afternoon lounging under a tree".
See also:
Do you know of any other articles you'd like to see added to this list?