in the cirque of Cilaos (photo © Daniel Born)
A little bit of France in the Indian Ocean
-
The Times
, October 15th 2011
A rum do on Reunion Island
-
New Zealand Herald
, July 28th 2011
Vive vanilla on Reunion
- The Australian, May 14th 2011
Vanilla, coffee and spices are the prized products on
Reunion Island. (Picture: © Jo Kerozen / Wikipedia)
Adventure Island hits the mark
- Adelaide Now, March 19th 2011
Reunion on volcanic island
- Queensland Times, March 9th 2011
Grande Passion
-
Condé Nast Traveller
, 2010
Peak season: Indian Ocean adventures in La Réunion
- The Independent, April 11th 2009
French Toast
-
The Scotsman
, February 2nd 2008
Joyful Reunion
- Daily Mail, August 22nd 2007
Short Breaks - in search of plant life in Reunion
-
The Independent on Sunday
, January 18th 2004
Spice Island and How Reunion brought vanilla to the world
-
The Independent
, December 6th 2003
Island rendezvous
- The Guardian, July 23rd 2003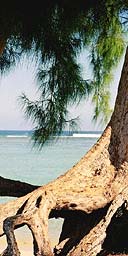 "A million miles from Paris ...
it's easy to while away the
afternoon lounging under a tree".
Blown Away by a Rugged Beauty
- '
The Telegraph
', October 24th 2001
Réunion: It's France, but not as we know it
- The Independent, August 13th 2001
Under the Volcano
- 'Time' magazine, April 16th 2001
Gallic charm in a tropical setting
- The Telegraph, April 4th 2001
See also:
Le Monde Diplomatique
timeline of Reunion's history (in English):
Island Past
The French empire strikes back
- The Sunday Times, January 3rd 2010, with a translation into French. (Article written by
Rosie Millard
, who wrote
Bonnes Vacances! A Crazy Family Adventure in the French Territories
and filmed "Croissants in the Jungle" with her husband for The Travel Channel).
Do you know of any other articles you'd like to see added to this list?